CONNECTED CONSTRUCTION
MATERIALS TESTING MACHINES
A Connected CMT Machine offers all the benefits of Automatic plus a two-way integration with construction materials testing software, resulting in 99.9%+ fewer manual errors, 66%+ increase in productivity, and 100% unalterable, unquestionable data.
FORNEY
CONNECTED

MACHINES
Get the quality, precision and dependability you know and love in Forney testing machines, now with Connected controls.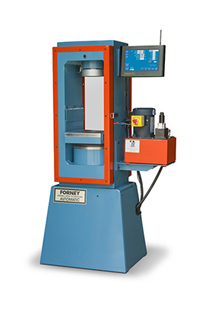 High-strength concrete testing
Universal testing for a wide range of specimens
NATIVE
TWO-WAY INTEGRATION

WITH CMT SOFTWARE
A Connected CMT Machine natively integrates with CMT software, providing powerful benefits before and after the lab strength test occurs.
Positive specimen identification via barcode scan

Pre-test "Smart Checks" based on preloaded sample and specimen data to validate sample date, sample size and type, and expected strength 

Validate specimen geometry 

Calculate preload settings based on expected strength
Detailed XY plot data for every test performed

Data automatically transferred to LIMS package, QC systems, or other software

Alerts to warn calibration expiration

Notifications about correction factors, individual low breaks, and excessive variance

Intelligent workflows for detailed reporting and approvals
LEARN MORE ABOUT CONNECTED


CONSTRUCTION MATERIALS TESTING MACHINES
WHAT IS A CONNECTED CMT MACHINE?
3 REASONS WHY YOU NEED MORE THAN JUST AN AUTOMATIC MACHINE
3 BENEFITS OF CMT SOFTWARE FOR MACHINE USERS
Get the Latest from Forney In your inbox
Enter your email below to subscribe for updated news on Forney's construction materials testing solutions.